Overview
Amsri is a leading Hyderabad based real estate development and land holding company with core competence in land acquisition and timely completion of projects. Amsri has till date constructed more than 3 million sq. feet of commercial and residential space in the twin cities and other projects are under various stages of execution.
The Company has operations in Hyderabad, Bangalore and Kolkata and promoted by Mr. Patnam Amruth Prasad. The Company has a land bank of 1000 acres across the prime corridors of Hyderabad, Bangalore and Kolkata. Amsri has executed residential, commercial and mixed-use projects since its inception to till date.
Amsri has been focused on enriching communities with its customized solutions for life and work. With modern residential and commercial complexes, Amsri is well on its way to redefine the concept of creating happy community living – one that ensures an integrated and healthy living ecosystem.
Promoter
It has been promoted by Mr. Patnam Amruth Prasad.
Amruth Prasad, a graduate in Civil Engineering hails from a business family who is well established in diversified business activities, an ardent disciplinarian by nature, he had been very instrumental in establishing and nurturing AMSRI as a major name to reckon with in the horizon of construction firms in south India through his vision, mission, discipline and relentless efforts.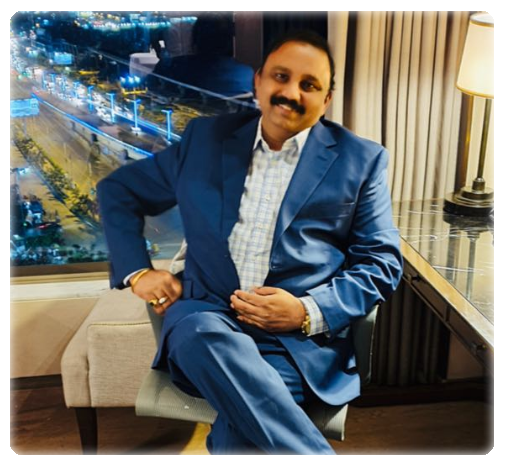 A Civil Engineer par excellence with highly appreciable and distinctive academic record. Mr. Amruth Prasad had been accorded fine opportunities to work by reputed and esteemed companies  such as TATA projects limited, Pasura Chemicals Ltd, to name a few and recognized as an achiever.
Punctuality is one of his vital characters which he believes is the key to success of any endeavor and he inculcates this character to every member of his team in order to meet the timelines of work schedules apart from high expectations of customers.
A visionary in his own right. Mr. Amruth Prasad has immaculate foresight of the future in the arena of realty and had proved his predictions right on several occasions much to the surprise of pundits of the industry.  He is ever unflinching in exploring, adopting and implementing pioneering ideas to keep abreast of times and to reap greater benefits out of his business.  On personal front, he is a humble and God loving person, a regular practitioner of Yoga and Meditation.  These fine qualities of his person very much reflect in his business activity and approach towards one and all.
Promoters & Key Management Team
Name
Designation
Experience
Mr. P Amruth Goud
Chairman
A Graduate in Civil Engineering comes from a family of well known businessmen. He is well known for his dynamic leadership and breadth of vision. Has 25 years of experience in Real Estate and Construction. Blends technical expertise with corporate acumen to steer AMSRI a powerhouse to reckon with. Domain expertise in land acquisition and construction. Executed residential, commercial and retail projects.
 
 
 
Mr. P. Pavan kumar

Sr.Vice President –

Projects & Sales

A Civil Engineer & Vaasthu Professional and has been associating with the company over 20 years.

Mr. P.G Ravindra

Kumar

VP Projects & Sales
A Civil engineer  who has worked with major industry players like Prestige, Mantri Developers, etc.
Mr. D. Maheshwar
Chief Co-ordinator

Has been associated with some of the top brands in India & USA, and comes with experience in project management, finance, and process orientation.

Metrics oriented, lays emphasis on innovation. On-time completion of projects and within cost is his forte.

Mr. P Gnaneshwar
Head – Legal
A law graduate with specialization in real estate. Mr. Gnaneshwar has over two decades of experience in the industry.
Mr. Rajeswara Rao

G.M.

Finance & Accounts

Has been associated with the company over 20 years. Look after the Taxation and company accounts function in the company
Mr. Chiru Harsha
Marketing – GM
Has been associating with the company over 3 years in Marketing the Commercial and Residential Properties.
 
 
 
Mr. B. Sripathi
Project In-charge
Has been associated with the company over 20 years with various projects.
M/s. S.S. Reddy & Associates
Company Secretary
A company secretary by profession has more than one and half decades of experience in corporate laws, foreign exchange matters and corporate governance.
G Venkatesh
Sr. Manager
Manger for accounts has been working with the company since 2010.
K P Kailash Babu
Sr. Manager
Manger IT, working with the company since 2005.
CHV. Ramanamurthy
Manager
Manager Taxation
M. Rakesh Reddy
GM – PR
Public Relation, working with the company since 2004.
P. B. Das Goud
PR
Public Relation, working with the company since 2000.
Our Business Associates & Consultants
M/s J Sagar Associates: Advocates & Solicitors – providing Legal services
M/s Manohar & Associates: Property Management Consultancy
M/s Vernekar Associates: Bangalore based company providing Architectural Services
M/s Prasad Associates: Hyderabad based company providing Architectural Services
M/s Manohar & Associates: Property Management Consultancy
Jones Lang LaSalle Meghraj: Real Estate & Capital Markets Consultancy
M/s S S REDDY Associates: Company Secretarial Services
C.W. (Cushman & Wakefield)
Team One Associates – Architect, Engineering and Project Management
B Design Studios Architect / Interior Design / Town Planner of home design service
Key Strengths